This post was originally published on this site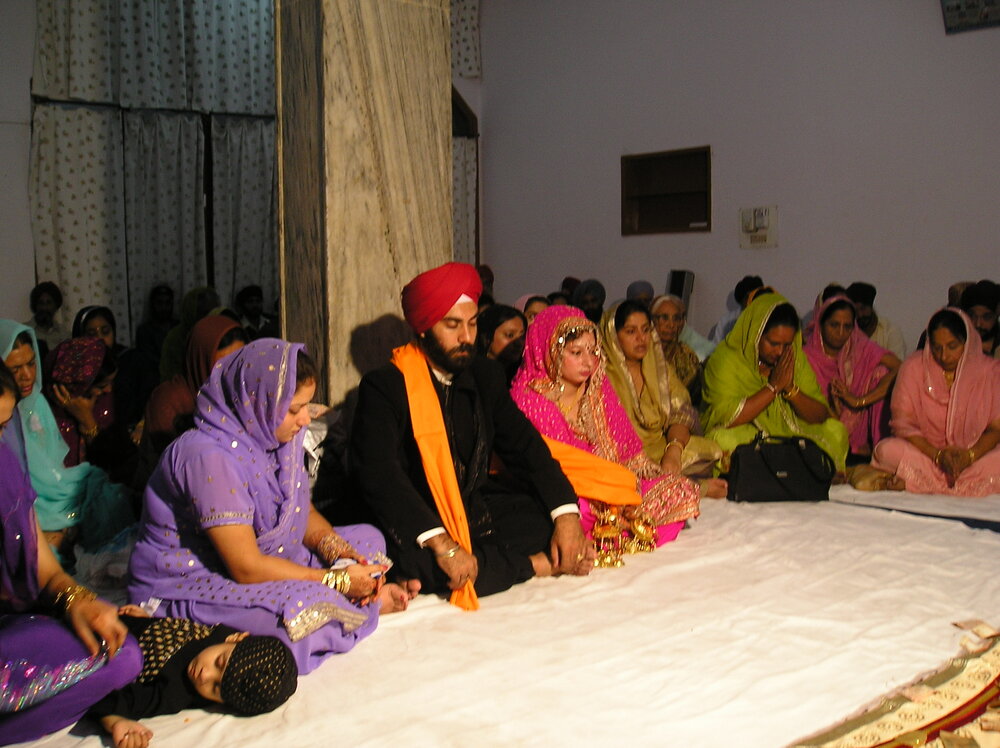 In 2006, I was assigned a four-part series on the horrific gender discrimination against women in India and how the massive aborting of girls has resulted in skewed gender ratios (as low as 814 girls for every 1,000 boys resulting in a gap of 43 million when I was there). It ran in the Washington Times several months later.
Sabu George, an Indian activist who was passionately against the aborting of females, showed me where to go in India to report on this phenomenon. The first place he sent me was to a Sikh wedding (pictured above) several hours north of New Delhi.
There, I saw the stash of presents (a refrigerator, TV, clothes for the groom, DVD player and washing machine) for which the bride's family had no doubt gone into debt to provide as a dowry for their daughter. More than one wedding can ruin a family financially and I began to see why Indians choose to abort a second daughter when they have the chance.
Medical clinics were very open about the practice, saying in their ads, "Better 500 rupees now (for an abortion) rather than 50,000 rupees later (for a dowry)."
Although dowry began as a Hindu custom, it's evolved into something all religions take part in across India. And what happens if one family decides that the bride's dowry wasn't "good enough"? This has been known to turn into a life-and-death subject.
Which is why I was interested in Al Jazeera's recent story about how Muslim Indians are finally saying "no."
Here's what ran April 2:
A prominent Muslim organisation in India has released new guidelines, asking the community to shun dowries and extravagant marriages after a woman recently died by suicide due to "dowry harassment".

In an 11-point guideline issued last week, the All India Muslim Personal Law Board (AIMPLB) asked the Muslims to take an "oath" to refrain from demanding dowry and keep the marriage ceremony simple without "needless rituals, customs and extravagant activities"…

The move comes after a Muslim woman in the western Indian state of Gujarat died by suicide last month by drowning herself in a river, alleging physical abuse over dowry by her husband and in-laws.

Her suicide set off a countrywide debate over social evils associated with marriage among Muslims and other communities.
Muslims are the second largest religious group in India, constituting 14 percent of Indian's 1 billion+ population.
This community's solution: Officiating at marriages in mosques (which has been rare up until now) instead of at expensive parties where the bride's family are pressured to pay up. Thus, marriage becomes more of a religious than a cultural event.
During the campaign, Muslim scholars and leaders will place emphasis on solemnising marriages according to Islamic customs and minimise spending during weddings.

The new guidelines prohibit wedding processions, fireworks, dancing and lavish feasts, calling them un-Islamic. It only allows "Dawat-e-Walima", a feast served by the groom's family after wedding rituals are completed.
I hope they succeed. Al Jazeera reported earlier this year on how dowries drive brides' families into destitution not only before the wedding, but afterwards, when the groom's family continues its demands to give even more.
The Indian wedding – colourful and cacophonous – is an occasion often marked by hundreds, if not thousands, of guests, lavish banquets and venues and brides and grooms kitted out in eye-popping costumes and jewellery. Some 10 million weddings take place each year in a market worth $50bn. But the occasion also puts enormous social pressure on the bride's family to spend vast sums of money in order to fulfil the demands of the groom's family and impress relatives.
While in India, I asked someone if there were any religious groups that didn't allow dowries for their followers' weddings. I was told that Christians scored the best on this, followed by the Muslims. Hindus, Sikhs, Jains and everyone else had pretty much bought into the system.
However, according to this site and this (dated) Christianity Today piece, churches were just as complicit. Only this 2019 case study suggested that Christians were any different; in fact one group had reversed the dowry system into a "bride price," which is what the groom's family had to pay for the bride.
I'll be interested to see how far the Muslims get with their guidelines, as it requires creating a new culture around simple weddings in a Hindu society where wedding bashes are a fixture.
The Indian government outlawed dowries in 1961, but that law is widely ignored. This article tells how the system popularizes child marriages because the younger the girl, the less dowry the bride's family has to pay. Not surprisingly, India leads the world in child brides.
This 2017 piece in the Guardian also says that Indian Muslims are leading the way in disallowing dowries.
Last year Ali, a businessman from the Latehar district, convened a meeting of Muslim community leaders, imams and qazis, or Muslim marriage registrars, to discuss the problem. The participants, who came from the Latehar, Palamu and Garhwa districts, called for a region-wide anti-dowry campaign. The DRA was born.

"We travelled to different Muslim areas and held seminars and meetings and explained to people how the practice of dowry goes against the teachings of Islam. We have involved imams, qazis and community leaders in all Muslim villages in the three districts," Ali said.
It's so intriguing. Once dowry is successfully pegged as un-Islamic, the battle is won.
He has been amazed by the support for the campaign. Thousands of volunteers across the district have been recruited to tell a DRA member when they hear about a dowry. DRA teams contact the families of the bride and groom to counsel them against giving or demanding a dowry. In most cases, they are successful.

"Before we started this campaign, the prevalence of dowry among Muslims in our region was as high as 95%. Now it has come down to around 5%," said DRA member Shamim Rizwi. "It's a matter of time, but we are sure we will one day succeed to make Muslim marriages in this region completely free from dowry."
The Hindu nationalist government has been particularly rough on Muslims in recent years, causing the latter to want to distance themselves at all costs from the reigning religion. If India's 204 million Muslims refuse to take part in the culture's dowry system, that might empower the Christians (and other minority groups) to do the same.
Articles on India's dowry system — and the inevitable suicides and murders that result — come along often enough. Far too little is said about the religious roots of the custom and whether all of India's citizens take part. I got an answer to this question in the second part of my series when I interviewed Swami Agnivesh, president of the World Council of Arya Samaj, a Hindu reform movement. He blamed his fellow Hindus for allowing misogyny to flourish when it was not a founding faith principle.
"The Hindu religious establishment is completely rotted from within," he said. "It has moved away from the universal values of the Vedas and Upanishads [scriptures]. The caste system is a total distortion of the Vedas."
This brings up an interesting possibility. Is the dowry and caste systems a true part of Hinduism or is there a purer form of the religion — witness the many goddesses in Hindu worship — that elevates women? I am no scholar in this matter but these are questions worth asking for reporters tackling this still evolving story. Dowry is not merely a cultural matter in India. Its roots are religious as well.
ART: Indian bride photo by Pixabay; Sikh wedding photo by the author.